Published on January 12 2015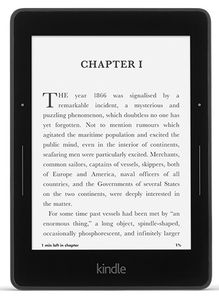 Those who prefer a dedicated e-reader to a tablet computer will have been delighted to see Amazon update its range of e-readers at the end of 2014.
A lot of people speculate that tablet computers will kill off dedicated e-readers, and they may well be right - but not for a while yet.
For the moment at least, e-ink displays, as used in dedicated readers, offers a much better reading experience than any tablet computer can. E-readers also have a battery life measured in weeks, as opposed to a few hours for a tablet. Who wants to run out of energy at a thrilling point in their latest blockbuster novel?
There's a great range of Kindle readers on offer now, starting from the entry level model which lets you get your hands on a touch screen reader for just $79, through the Paperwhite and right up to the top of the range Kindle Voyage at $199 (Wi-Fi only, with special offers).
Any one of these Kindle readers would make a great gift for a lover of reading, especially if you include a subscription to Kindle unlimited as well.
Which Kindle Reader Is Best For You?
With the addition of the new Kindle Voyage, users can now choose from three different Kindle dedicated e-readers. Prices range from as low as $79 up to an eye watering $289 - for the Kindle Voyage ...
When e-readers first became commercially available, back in 2006, I just had to have one. Reading has long been one of my favourite hobbies and I tend to get through at least a book a week. I was a...
Comparing Tablet Computers And Ereaders Tablet computers and ereaders are two of my favorite electronic gadgets. You will often find them compared side by side around the internet as if they are ve...
http://run311.com/electronics/tablet-computers-and-ereaders/
Decluttering The Home With An Ereader
Using An Ereader To Tidy Your Home I doubt if anyone would classify an ereader as a household appliance, I know that I certainly wouldn't. Nevertheless, I must say that since I switched to reading ...
http://blogdabibi.com/electronics/decluttering-the-home-with-an-ereader/